Opuscula 7 | 2014
:

Annual of the Swedish Institutes at Athens and Rome

CHIARA M. MAZZERI | Ancestors at the gate. Form, function and symbolism of the imagines moiorum. A comparative analysis of Etruscan and Roman funerary art

LARS KARLSSON, JESPER BLID KULLBERG, BAPTISTE VERGNAUD & AGNETA FRECCERO | Labraunda 20 12-2013. A preliminary report on the work at the sanctuary. With a new reconstruction drawing of the sanctuary by Jesper Blid Kullberg and an appendix by Fredrik Tobin

PETER M. FISCHER & TERESA BÜRGE | The New Swedish Cyprus Expedition 2013. Excavations at Hala Sultan Tekke. Preliminary results. With contributions by R. Árnadóttir M. Mehofer, F. Köstelbauer, A. Satraki, L. Mazzotta & A.Trecarichi, D. Blattner, B. Stolle & A. Miltiadous Johansson

SVANTE FISCHER | The solidus hoard of Casa delle Vestali in context

PETER M. FISCHER & TERESA BÜRGE | The Swedish Jordan Expedition 2013 at Tall Abu al-Kharaz. Preliminary results from Areas 9, 10 and 11

BERIT WELLS IN MEMORIAM | By Arto Penttinen & Jenny Wallensten

GUNNEL EKROTH | Castration, cult and agriculture. Perspectives on Greek animal sacrifice

CHARLOTTE SCHEFFER | Cooking stands and braziers in Greek sanctuaries

SIGNE ISAGER | New inscriptions in the Bodrum Museum. A Hellenistic foundation from the area of Mylasa

JENNY WALLENSTEN | Karpophoroi deities and the Attic cult of Ge
Notes on IG 112 4758

SARAH P. MORRIS | Dairy Queen. Churns and milk products in the Aegean Bronze Age

MONICA NILSSON | A note on domestic vs communal grain storage in the Early Helladic period

Book reviews.
Open access (articles as PDF)
Contents |
Ancestors at the gate |
Labraunda 2012–2013 |
The New Swedish Cyprus Expedition 2013 Excavations at Hala Sultan Tekke |
The solidus hoard of Casa delle Vestali in context |
The Swedish Jordan Expedition 2013 at Tall Abu al-Kharaz |
Berit Wells in memoriam |
Castration, cult and agriculture |
Cooking stands and braziers in Greek sanctuaries |
New inscriptions in the Bodrum Museum |
Karpophoroi deities and the Attic cult of Ge Notes on IG II2 4758 |
Dairy Queen |
A note on domestic vs communal grain storage in the Early Helladic period |
Book reviews |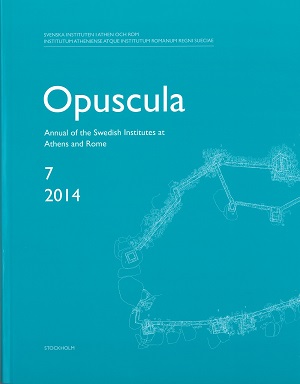 ISBN 9789197779869
Soft cover
257 pages
Published 2014
Language eng
Price from SEK 636